Going Out Pants
Dziś piątek! Jeśli macie w planach wieczorne wyjście, oto kilka inspiracji od the Man Repeller. Leandra Medine, bo o niej mowa, ma świetny styl, pisze śmieszne, ironiczne teksty o modzie i życiu i inspiruje mnie każdego dnia (jeden z moich ulubionych blogów, który czytam codziennie).
Today's Friday! If you're planning to go out this weekend, here you'll find some inspiration from the Man Repeller. Leandra Medine, that's her lol, has a great style, writes funny (or even satirical) articles about fashion and life and inspires me every day (I follow her blog daily).
stylehaus.com
popsugar.com.au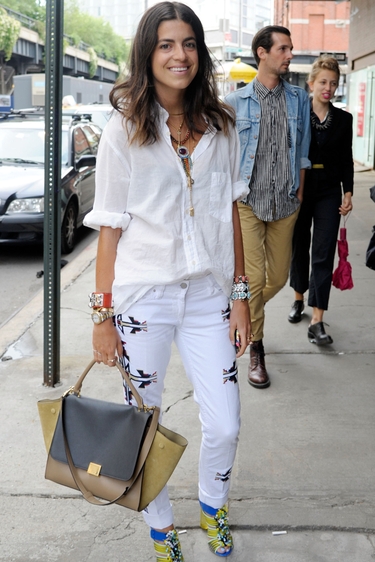 rte.ie
Zobaczcie jak potrafi bawić się modą: przede wszystkim buty(!!!!), które potrafią podkręcić każdy nawet najprostrzy strój (patrz biała koszula); następnie marynarki (!!!) w różnych fasonach (zrolowane lub podciągnięte rękawy,
spójrz!
;); dodatki (!!) bogactwo biżuterii oraz torebki; dobieranie ubrań na zasadzie kontrastu (!) elegancka marynarka i poszarpane spodnie, zwykły wełniany sweter i cekinowe spodnie.
Look how she plays with fashion: most of all shoes (!!!!), which turn up even the simplest outfits (like the white shirt look); blazers (!!!) in different shapes (rolled up or drawn up sleeves, look! ;); accessories (!!) jewelry opulence and the bags...; matching contrasts (!) smart blazer and ragged jeans, simple woolen sweater and sequin pants.
Pisząc o jej stylu, chciałam skłonić i Was i samą siebie do wychodzenia poza nasz utarty od lat szlak modowy. Czasami warto jest zaryzykować, zrobić coś nowego, odświeżającego... Myślę, że to dobrze na nas działa. Chciałabym podejmować większe ryzyko ubierając się, tylko czy wystarczy mi odwagi? :)
I wanted to convince both you and myself to "dress outside the box". Sometimes it's good to take some risk, do something new and refreshing... I think it has a good impact on us. I'd like to play that risky fashion game, but will I ever have enough courage? :)